News
UPDATE: OMT Payment Issue
Thank you for all your help and participation in the SaveOMT campaign. Due to the extensive feedback and comments provided by the osteopathic community, the National Government Services has released a final version of the LCD OMT, which will ensure that osteopathic physicians get appropriately reimbursed for OMT provided to Medicare beneficiaries. The LCD incorporates a large majority of the language that the AOA and the impacted states have recommended. It will go into effect November 1st, 2016.
You can review the
final version of the LCD here
.
The next steps are to see physicians and their staff are properly educated on the implementation. There will be 3 webinars that discuss the changes of the LCD, documentation guidelines and requirements that must be followed. The webinars are scheduled for:
Oct. 28
10:30 am – Noon
Nov. 2
7:00 – 8:30 pm
Nov. 9
1:00 – 2:30 pm
Dec. 13
10:30 am

(registration not yet available)
You can register and view information about the webinars at
www.ngsmedicare.com
. You will need to log in with your credentials or continue as a guest. Then, click on the
Education
tab at the top of the page and select
Webinars, Teleconferences, and Events
from the list on the right side of the page. Scroll through the list of webinars until you find the one you want and click the Register button. Related PDF materials will be posted as well. Following implementation, the Medical Review Staff will be collecting data to see that the new LCD is being followed.
Please
contact us
if you have questions or difficulty registering. If none of these dates work for you and your office staff, NGS will be able to provide additional sessions.
---
DO Spotlight: Dr. James Griffin
James Griffin, DO, immediate Past President of RISOPS provided four years of steady leadership before stepping down in August.
Read more...
---
Legislation
The
Rhode Island Society of Osteopathic Physicians & Surgeons
has voted to sign on and support the following Rhode Island legislative bills:
---
The WHO's Zika Virus Recommendations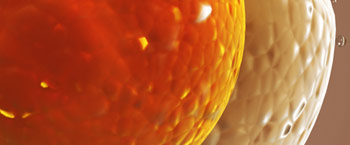 Since the
World Health Organization
's Emergency Committee on Zika virus first met on 1 February, substantial new research has strengthened the association between Zika infection and the occurrence of fetal malformations and neurological disorders. Evidence also suggests that sexual transmission of the virus is more common than previously assumed. Based on these findings the Emergency Committee made
Zika virus - new recommendations
that include:
—Read all of the
Emergency Committee's recommendations
—Listen to the
full press briefing
on the Second Zika Emergency Committee
---
Rhode Island Accepts Proposed Changes to Recognize DOs
In August, the AOA sent a letter to the Rhode Island Department of Health requesting several changes to the Rules and Regulations for the Licensure and Discipline of Physicians (Rules and Regulations). The Rules and Regulations update the training and certification requirements for medical students and physicians licensed to practice in Rhode Island, but the original version failed to adequately recognize examinations, postgraduate medical training, and certifications for osteopathic physicians. Additionally, the proposal provided recognition for Maintenance of Certification as meeting the state's Continuing Medical Education requirement for relicensure, but did not include Osteopathic Continuous Certification. In October, the Department of Health published the Board approved Rules and Regulations, which included all of the requests made by the AOA.
---
Rhode Island DO Briefs Congressman on Important Osteopathic Issues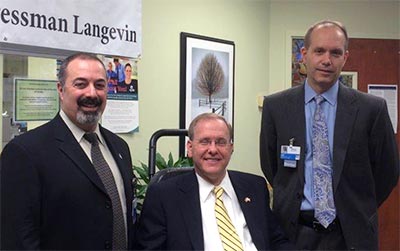 Earlier this month,
George J. Pasquarello, DO
and his colleagues at East Greenwich Spine & Sport hosted
Representative Jim Langevin
(D-RI) and met with him to discuss a variety of issues important to the osteopathic community. After a short tour of the practice, Dr. Pasquarello and the staff met with the Congressman to discuss relevant and timely issues such as costs and infrastructure for EHRs and Meaningful Use. Specially, Dr. Pasquarello called the Congressman's attention to the changes within the current system that have forced his office from private practice into an employment model.
Additionally, the team discussed the new Medicare physician payment system created by the
Medicare Access and CHIP Reauthorization Act of 2015
(MACRA), MIPS, clinical improvement activities and the impact at the front line level within practices. Lastly, Dr. Pasquarello and Congressman Langevin had a candid conversation about the future of medicine and the need for support of GME slots to assure adequate training for the next generation of osteopathic physicians.
---
EBOLA Preparedness Resources

Dear Colleague,
The Department of Health and Human Services' Centers for Disease Control and Prevention (CDC) and Office of the Assistant Secretary for Preparedness and Response (ASPR) continues to work with other U.S. government agencies, the World Health Organization (WHO), and other domestic and international partners in an international response to the current Ebola outbreak in West Africa. The attached document summarizes key messages about the outbreak and the response. It will be updated as new information becomes available and distributed regularly.
Please share this document with others as appropriate.
The following are updated guidance documents available:
Open Letter to All U.S. Healthcare Professionals from Dr. Nicole Lurie, the Assistant Secretary for Preparedness and Response, regarding the current Ebola situation. – Oct. 3, 2014
Interim Guidance for Environmental Infection Control in Hospitals for Ebola Virus - Updated Oct. 3, 2014
HAN 371: Evaluating Patients for Possible Ebola Virus Disease: Recommendations for Healthcare Personnel and Health Officials – Oct. 2, 2014
Interim Guidance: EMS Systems & 9-1-1 PSAPs: Management of Patients in the U.S. - Updated Oct. 1, 2014
Evaluating Returned Travelers for EVD, U.S. – Oct. 1, 2014
Checklist for Patients Being Evaluated for EVD, U.S. – Oct. 1, 2014
Ebola Screening Criteria Template for EMS – Updated Oct. 1, 2014
CDC/ASPR Checklists:
Webinar Recording Available on Ebola Preparedness for U.S. Health Care System
A recording of a recent
webinar
hosted by ASPR and CDC on Ebola Preparedness for the U.S. health care system is now available for viewing. The webinar focused on the
Detailed Hospital Checklist for Ebola Preparedness
, which highlights the activities that all hospitals can take to prepare for the possibility of a patient exposed to Ebola arriving for medical care. This information is especially useful for hospital emergency managers, infection control officers, hospital leadership, and clinical staff. The checklist provides practical and specific suggestions to ensure hospitals can detect possible Ebola cases, protect their employees, and respond appropriately.
CDC and ASPR encourage you to visit the CDC Ebola website for the most updated information on the 2014 Ebola response and to share this information with your colleagues and networks.
Sincerely,
Division of Health System Policy
HHS/ASPR/OPP
Thomas P. O'Neill Federal Building
200 C Street SW, Washington, DC 20024
eccc@hhs.gov
---
Judge Bars UnitedHealthcare from Dropping Docs
A federal judge in Connecticut has issued a preliminary injunction prohibiting UnitedHealthcare from dropping doctors from its provider networks for Medicare Advantage plans. The ruling by U.S. District Court Judge Stefan Underhill could have national implications as UnitedHealthcare and other insurers move to tighten their Advantage networks.

Download a PDF of the full article here.
---
UnitedHealthcare is Terminating Physicians from its Medicare Advantage Programs
Several AOA members contacted the AOA regarding letters they received as part of UnitedHealthcare's changes to their network composition. In these letters UHC informed physicians that their UHC Medicare Advantage participation will end, all UHC Medicare Advantage benefit plans will be removed from their contracts, and that patients covered by UHC Medicare Advantage will be instructed to select an alternate UHC Medicare Advantage network for physician services rendered on or after January 1, or February 1, 2014, depending on the state. The physician's participation in commercial or Medicaid benefit plans will not be terminated through this process.

The AOA is sending a letter to UnitedHealthcare to express our concerns with this initiative and the potential impact on the physician-patient relationship. We strongly encourage physicians who receive letters to immediately appeal UHC's decision to terminate with specific information on why your services are needed in your geographic area. We also encourage you to alert your patients and have them contact their UHC network representatives.

Yolanda Doss, Director of the AOA's Division of Compliance and Payment Advocacy, has been in communication with UnitedHealthcare, as well as several physicians impacted by this action. A New Jersey physician has drafted a very good appeal letter and approved the AOA sharing his letter with you. This letter may be used as a guide to assist other physicians with their appeals. Be sure your own personal letters reflect the impact this action will have on your patients, your practice, and possibly the community. (See letter attached above.) If you have questions, you may contact Ms. Doss at (312) 202-8187 or by email at ydoss@osteopathic.org.

Below are links to recent articles from the Providence Journal regarding the terminations of UnitedHealthcare's Medicare Advantage patients --
---
RI:Visions - The RISOPS Newsletter
Rhode Island Healthcare Industry News
------------------------------------
How to check the status of a bill in Rhode Island
Double click "Bill Status/History" in the left-hand column.   You will be on the "General Assembly Bill Status System" page.    Double click on "Bill Status/ History" at the top.



In the box entitled "Bills" enter the Bill Number.    Bills are 4 digits in length, 0-4999 for Senate bills and bills starting with 5 or getter are house bills.