A Steady Hand
James Griffin, DO Steered RISOPS to Success During Four-Year Presidency

By: Andrew P. Peck, for www.risops.org
When one considers the progress of the osteopathic profession in Rhode Island over the past 15 years, one person's impact must inevitably come to mind. The contributions of James Griffin, DO, Immediate Past President of Rhode Island Society of Osteopathic Physicians and Surgeons merit state-wide recognition and appreciation.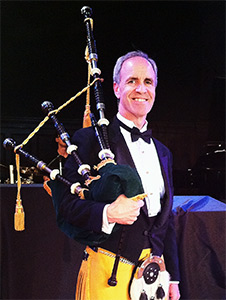 Dr. Griffin, who served as president of RISOPS from 2012-2016 recently stepped down but not before guiding the Society through a crucial period in its history and helping to preserve the osteopathic identity throughout the state of Rhode Island. A member since 1997, Dr. Griffin has served on the RISOPS Board of Officers since 1999.

Dr. Griffin plans to dedicate focus to his anesthesiology practice at South County Hospital in Wakefield, RI. Upon handing over the reins of RISOPS in August 2016, he spoke about the importance of the group throughout the local osteopathic medical community.

"I got to see the evolution of the organization as well as the challenges," he said. "I also saw the benefits of being a member. When I was encouraged to continue as president, I found it very rewarding to take that experience and implement what I thought needed to be done."

Newly-elected RISOPS Board President, Gregory Allen, DO, said his longtime friend and colleague had left an indelible impression on the society.

"Jim has been a tireless advocate for RISOPS," Dr. Allen said. "He was instrumental in forming and maintaining the Rhode Island Osteopathic Political Action Committee, which has made its voice heard in Rhode Island politics."

Dr. Allen said that Dr. Griffin has left him with some significant shoes to fill.

"He worked diligently to guide us through the last four years," Dr. Allen said. "His efforts to expand membership and keep the Society relevant at a time when physicians are being pulled in many different directions has been impressive. I hope that I can maintain his level of organization and resolve."

Once a student at Cleveland Chiropractic College in Kansas City, Dr. Griffin decided to enter the medical profession with an emphasis on Osteopathic Manipulative Medicine. He went on to receive his degree from Kansas City University of Medicine and Biosciences and has been in practice for over 20 years.

"Chiropractic school was immensely helpful in paving the way for me especially with the OMM portion of my training," he said. " It really gave me a running start and I definitely adhere to those principles. I try to minimize the amount of anesthesia and drugs that I give to patients, using local anesthetic as often as possible."

While he has seen advancement and acceptance for DOs throughout his career, Dr. Griffin cautioned that there is still significant work to complete on behalf of the Osteopathic profession.

"We are still denied privileges because we are trained in DO and not MD programs. It's just appalling to me that this kind of discrimination still goes on," Dr. Griffin said. "It tells me that those challenges are not over. Reimbursement rates in New England compared to the rest of the country also create real problems in running a practice and recruiting partners to the practice."

When he's not practicing medicine or advocating for the advancement of local DOs, Dr. Griffin enjoys playing bagpipes in a group, which competes in competitions and performs at various venues. After seven years of playing experience he said that playing bagpipes is a very challenging pursuit which appeals to his steady and meticulous nature. Dr. Griffin, who holds a dual-citizenship with Ireland said he truly enjoys the cultural connection derived from performing bagpipe music.

"My favorite thing is performing on St. Patrick's Day," he said. "On that day, it's like you're a rock star when you walk into these venues and hear the people cheering. You get really close with your bandmates and it's just really fun and rewarding."

Dr. Griffin emphasized that membership in RISOPS is a major priority for the board and all members today. He said he takes pride in the Society's rich history and has expressed deep concern for its future if interest isn't maintained.

"I was researching the history of Rhode Island and our group was mentioned in this old book," he said. "It's fascinating. RISOPS was around since the turn of the 20th century. Just reading this book on Osteopathy in 1905 it really gives you a lot of reference. To hear it written from somebody back then, what they were up against and how they were thought of, it's really quite eye opening."