Leading in a Changing Healthcare Environment
AOA's Advocacy for Healthy Partnerships Conference Covered Array of Leadership Topics

By: Andrew P. Peck, for www.risops.org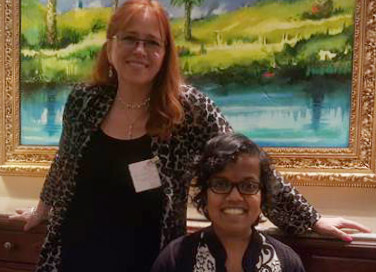 Leaders in today's healthcare environment have to be ready for rapid change on numerous fronts. With those challenges in mind, leaders in the osteopathic profession assembled in Tampa during January for the AOA's Advocacy For Healthy Partnerships conference. RISOPS was represented at the gathering by board member Halina Harding, DO (shown here at left with Executive Director Samyuktha Gumidyala at the Advocacy for Healthy Partnerships Conference in Tampa, January 18, 2017).
Designed for physicians in the osteopathic profession, the AHP Conference featured a series of training sessions covering a diverse range of knowledge and skills to aid leaders in the field of Osteopathic Medicine. Attendees received expert advice on successfully advocating for patients and engaged in discussion on topics such as grassroots advocacy, emerging issues in health policies, and technological innovation.
Dr. Harding said she received an abundance of information to bring back to her colleagues and practice in Rhode Island.
"I now have a clear picture of how important it is for DOs to voice their opinions at local and state levels so that we can make a difference and affect policy," she said. "I am interested in going back and seeing if I can have any dialogue with our major Medicaid provider in the state. I'd like to learn how we can work together on certain testing and drugs. That's going to take a bunch of research on my part."
The event included a discussion on resilient leadership with Lt. General Russell Honoré (US Army - Ret.), commander of Joint Task Force Katrina. He was responsible for coordinating military relief efforts for Hurricane Katrina-affected areas. The leaders in attendance also heard from Mark Kelly, retired American astronaut, engineer and U.S. Navy Captain. Kelly told the group to think independently and question conventional wisdom. "None of us is as dumb as all of us," Kelly said.
Dr. Harding said she had been inspired to inquire about local resources available for physicians in distress.
"I would like to find out about the physician help networks covered in the presentation from Federation of State Physician and Health Programs," she said. "I want to research the opportunities in Rhode Island. I see a lot of burnout in my colleagues and I want to see if there is support for them out there."